President's Message March 2022 Painted Ladies of the Mojave by Margaret Rhyne - president@prmdia.org
A trip to the Poppy Reserve in early February resulted in a nice surprise. As newsletter editor Marsha Neill and I scanned the field in front of the Jane Pinheiro Interpretive Center for some telltale hints of orange, we spotted something unexpected, a few out of season rabbitbrush blooms and fluttering over them, a painted lady butterfly making an appearance at the Reserve a month ahead schedule. Unfortunately, this orange and black monarch butterfly look-alike provided the only flash of color at the Reserve that day, but it was a welcome sight nevertheless.
Painted ladies (Vanessa cardui) are the most widespread butterfly throughout the world. They are found on all continents except Antarctica and South America. Beginning in March, painted ladies fly from northern Mexico north over most of California with offspring reaching as far north as the Pacific Northwest and Canada. This is not a roundtrip migration because they rarely migrate south and return to northern Mexico. Instead each individual butterfly only makes it a few 100 miles north before stopping to lay their eggs and die. Their offspring will continue the journey north a few 100 miles farther before reproducing, driven by genes that tell them to "move away from the sun and fly toward darker skies," according to desert researcher Jim Cornett. It takes about 6 generations to reach their final northern destinations. The last painted ladies of the season will then die out.
Fortunately, every year some painted ladies resist the urge to fly north and instead stay in northern Mexico, keeping the population intact. In addition, a few offspring from the northern migrations may head south at the end of summer and return to Mexico, also helping to preserve the species through the winter. Unlike the monarch butterflies that they resemble, they do not overwinter in California.
On their journey north, painted ladies can fly up to 25 to 30 miles per hour and continue for days without stopping. Along the way, as they lay eggs and harvest nectar, they play an important role in the pollination of native wildflowers. In wet years, the northern journey of painted ladies can be quite spectacular, with millions of butterflies filling the skies. In 2019 my husband and I were amazed by the early morning view of a sky filled with their fluttering orange wings while on a March visit to Borrego Springs. Later that day, we found the same masses enjoying the wildflower fields at the entrance to Coyote Canyon in Anza Borrego State Park. In 2019, the Poppy Reserve also was visited by large numbers of painted ladies.
Host plants include Mojave thistle, sagebrush, desert globe mallow, and most native lupines. Nectar is provided by the flowers of thistles, blazing stars, asters, and many other plants. At the Poppy Reserve, look for painted ladies on the grape soda lupine and fiddleneck. When looking for the proper host plant for its eggs, female painted ladies, like most butterflies, uses taste receptors on the bottom of its feet. The mint green eggs are barrel-shaped. The eggs hatch in 3 to 5 days. It takes about 4 weeks for the entire metamorphosis from egg, to larva (caterpillar), to pupa (chrysalis) to produce an adult butterfly.
If you return from a wildflower watching trip to the desert with a yellow smear on your windshield, you probably have had an unfortunate encounter with a painted lady. When the painted ladies smash into a windshield, the result is a glob of yellow, butter-like ooze caused by the butterfly's stored fat, used to make the long journey north. Their large numbers and low flying habits make this a common occurrence in wet years.
Links:
Calscape: Painted Ladies
10 Fascinating Facts About Painted Lady Butterflies
University of Colorado
Links for Photos below left to right:
Painted Lady Butterfly
Comparison, Painted Lady and Monarch
The "hummingbird moth" often seen throughout the Mojave Desert is a startling surprise to visitors at our desert state parks. Known commonly as the white-lined sphinx moth (Hyles lineata) its behavior and large size cause it to be often mistaken for a hummingbird. It is a chunky moth with six white strips across its brown body and a wingspan of 2 ½ to 3 ½ inches. The hindwings have pink streaks. The caterpillar of the white-lined sphinx moth is usually dull yellow in the west but color varies and can be off white and sometimes nearly black. Because of its large size, the white-lined sphinx moth must beat its wings very fast, enabling it to hover like a hummingbird as it sips nectar. At the poppy reserve look for them on Kitanemuk Point hovering over the lacy phacelia. Other desert plants that attract this striking moth include California buckwheat and California four o'clock. In California, there are 21 different species of sphinx moths.
Photos from the Poppy Reserve Spring 2020 Courtesy of Marsha Neill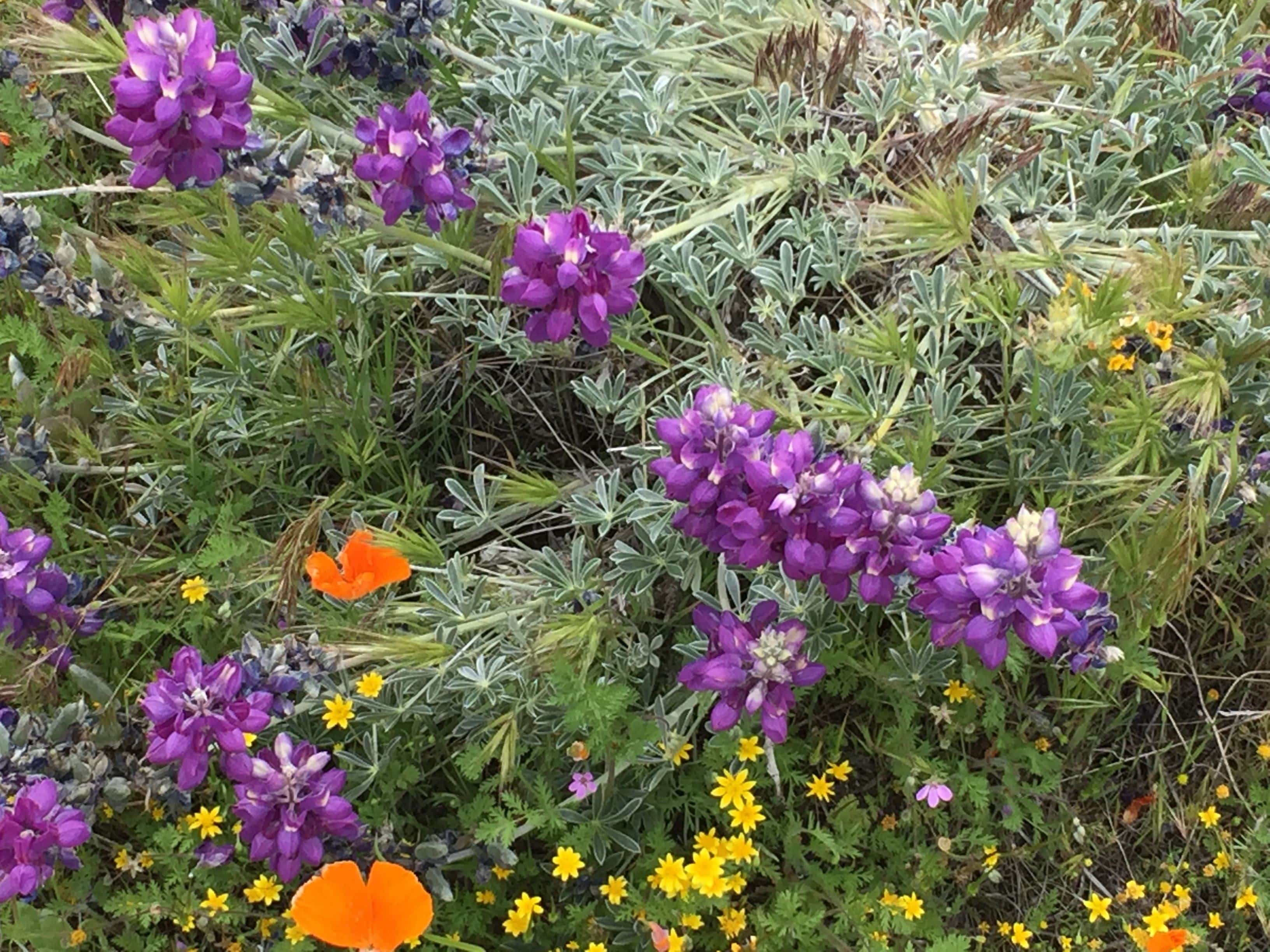 More Photos from Spring 2020
Last Day of the Season - Mother's Day 2020 - Photos Courtesy of John Martin